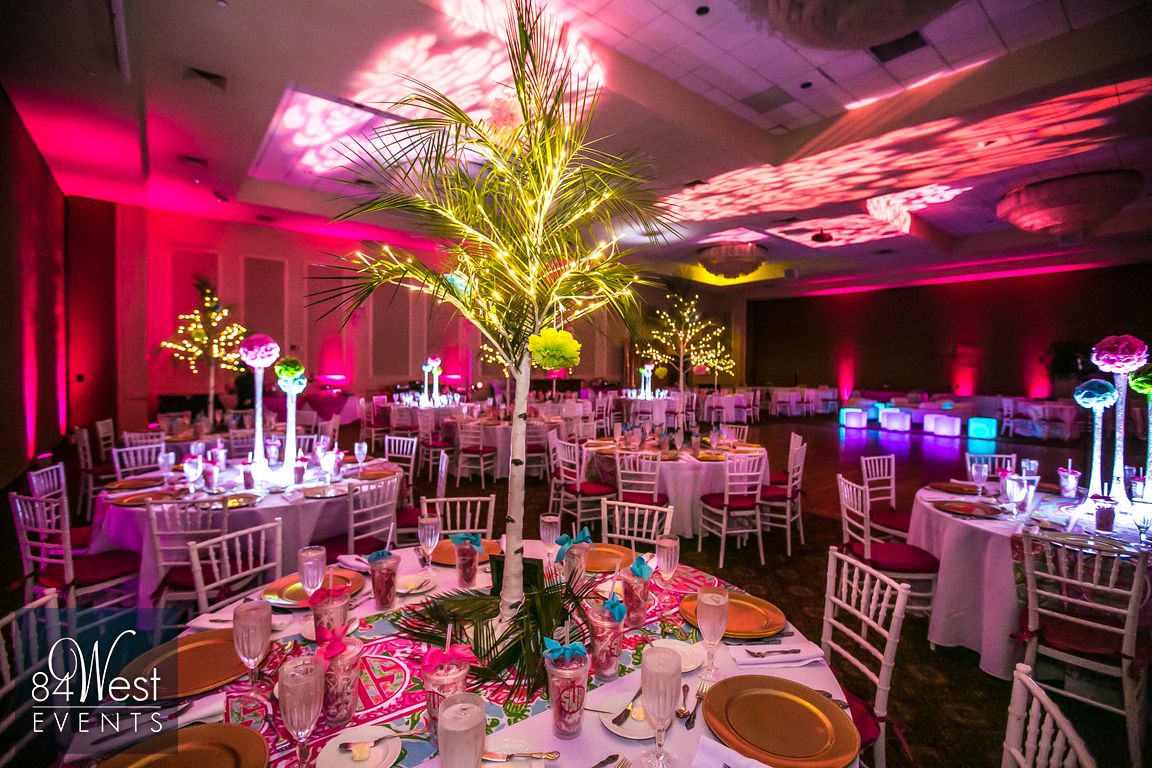 Sara's Pretty Lilly Pulitzer Bat Mitzvah Theme at Temple Beth Emet
We loved working with Sara and her mom to create this pretty, preppy, Palm Beach chic Bat Mitzvah. Sara loves Lilly Pulitzer trends, especially the roses and bright colors. Her Bat Mitzvah colors were hot pink, lime green, and sea spray turquoise, with clean white accents. We designed her Bat Mitzvah logo and event design around her desire for Lilly Pulitzer centerpieces. Temple Beth Emet in Cooper City FL is one of our favorite South Florida B'Mitzvah venues. It's so elegant but it's a fantastic blank canvas for any style theme.
Working with our clients, we designed feminine, pretty lit décor featuring our 5ft tall LED birch trees, accented with palm fronds, twinkle lights, and tropical pom-poms in her event colors. We alternated this centerpiece with some tables that featured a trio of lit Eiffel tower vases, topped with floral arrangements. The perfect finishing touch for the tables included the custom-printed runner featuring Lilly's logo, with color-coordinated napkins and chair pads. We do have to say our favorite detail though was splashing the ceiling with projected designs of pink Lilly Pulitzer roses! It made such a difference in the room design.
And of course we finished the party with our award-winning Bat Mitzvah DJ entertainment, photography, and video, as well as our most popular 2018 Bat Mitzvah activities: lash/mustache bar, pop socket station, and photo booth.
Here are some of our favorite shots from this fun Cooper City FL Bat Mitzvah!