84 West Events, located in Ft. Lauderdale, is South Florida's top choice in Bar/Bat Mitzvah event services including DJ entertainment, photography, video, lighting, and decor. Our clients love us! You can some of the most recent 84 West Events reviews below. Ready to get started on planning your family's Mitzvah celebration? Call us today or fill out the form below to request more information on our Bar/Bat Mitzvah packages!
Call today! (954)236-9000
Or fill out the form on the right for more information.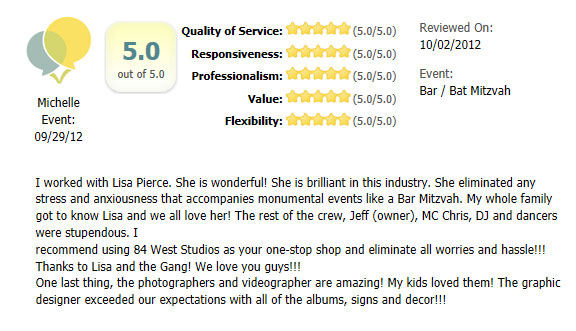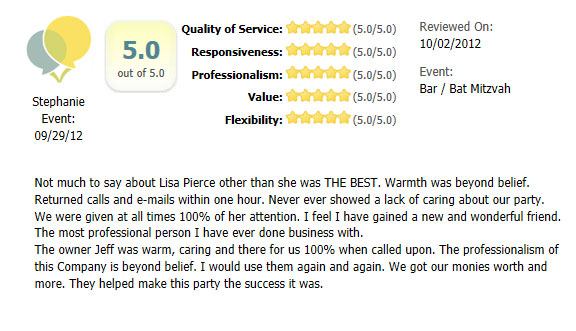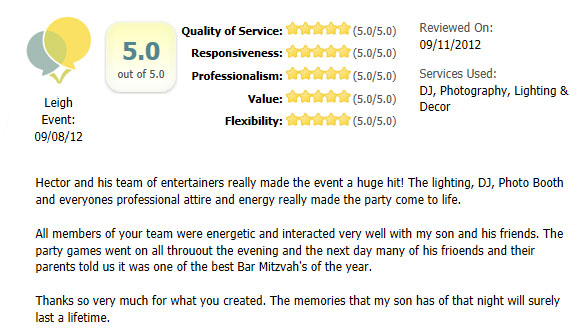 Awards & Recognition
Clients love us for our amazing customer service, top quality, convenience, and affordable prices. Below is a short list of our recent awards and recognitions as one of South Florida's most popular Bar & Bat Mitzvah event production companies.
Miami Beach Chamber of Commerce Small Business of the Year Award Finalist 2012
BizBash South Florida DJ of the Year Finalist 2012
The Knot Best of Weddings 2014

Wedding Wire Bride's Choice Awards 2014

Girls Gone Bridal Official Vendor & Sponsor 2014
Destination Event Specialist 2014
Want to get started on planning your event? Call us at (954)236-9000 or contact us by email; we want to talk about your celebration!
More Five Star 84 West Events Reviews & Testimonials
Looking for 84 West Events reviews? Here are some of our most recent reviews from real 84 West Events clients!
"Jeff and Lisa, you are the best. I feel very comfrotable and very reassured knowing the two of you handle my affairs when the opportunity arises. I will most definitely use you!" Sue Fisher
"Wow! What a party!! We wish to thank you for making our son's Bar Mitzvah a complete success. You and your entire staff are to be commended for a truly outstanding job. Your ability to read the crowd and get all the age ranges involved in dancing is amazing. There is no doubt that we owe the success of our party to you. All we can say is that we look forward to our next son's Bar Mitzvah." Jeff and Michele Fischer, Sean's Bar Mitzvah
"Thanks Jeff, we all had a great time. I know our crowd is hard to break the ice, but you did it! We will definitely keep you on file for future events." Amy Goldin
"As we told you, our party was a great success because of you." Shari Weisberg
"We were extremely happy with your service!!! Dan has a gift at what he does, he was AWESOME. We thought with the crowd we had it would be challenging to get the party going, but it wasn't a problem for him! Dan made the party very memorable for us to cherish forever. I also wanted to give a big thank you to Jeffrey Greene! Our experience with you SOLD US on deciding to go with your company- and believe me, it was WORTH IT!!! One-Stop-Shop. It made my life so much easier!!" Linda Cohen, Mark's Bar Mitzvah
"Very satisfied! Dan assessed our guests and tailored his style of entertainment to ensure that everyone included. I've had nothing but praise for his handling of our celebration. My wife and I, along with our guests, had a hugely enjoyable evening as a direct result of Dan Kerness! Two thumbs up." The Smith Family
"Wow!!! All three of the event staff members were great! They were professional, friendly, funny and entertaining. They really put our mind at ease. I would highly recommend them to all my friends and family. I really cannot wait to see my photo album and video!" Erin and Adrian, Alex's Bat Mitzvah
"Jeff was excellent, 100% satisfaction!" The Weisburgs
"FANTASTIC! MAGNIFICENT! You successfully made both the young and old feel like they were a part of the party. You handled the many diverse needs flawlessly. Eeveryone had a fantastic time!                   You're a GREAT MC." Leslie Roberts, Sam's Bar Mitzvah
"Jeff is amazing! He truly made our party! He helped to create memories that will last a lifetime! Thank you for making our daughter's day so special and the success it was!" March 2009
"Our DJ was awesome. I danced the whole evening! He was attentive and incredibly accomodating! Thank you!" April 2010