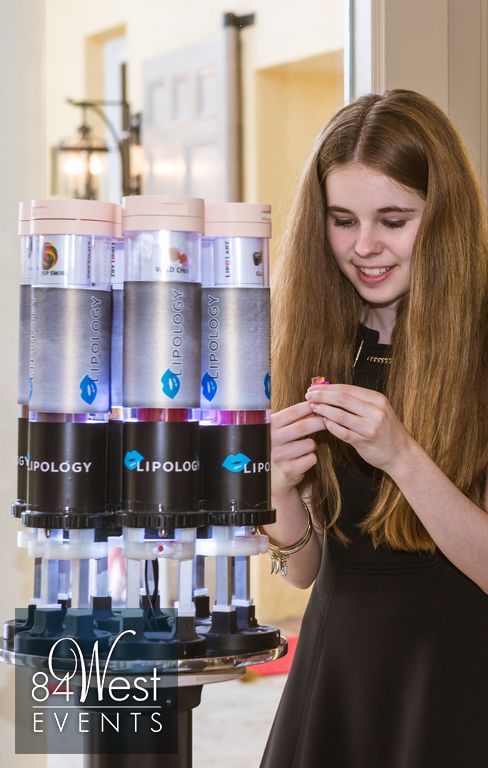 Lipology is the new trend for South Florida Bar and Bat Mitzvah favors. Interactive lip balm stations allow your guests to get creative and customize their own party favors! Perfect for cocktail hour activities or for the entire party. Customize your own Chapstick using Lipology personalized flavors. Over 20 delicious flavors to choose from, pick your favorites to feature at your B'Mitzvah. Bar and Bat Mitzvah lip balm flavors include favorites like cola, strawberry, coconut, and more. Mix and match for the perfect lip balm flavor! You are the creator!
Call today to check availability for your event date! (954)236-9000
Personalized Lip Balm Labels
Each chapstick favor includes an optional custom label for your Bar or Bat Mitzvah logo, monogram, or theme. We will put the labels on for you and your guests will get to choose their favorite flavor to be made right there as they wait! It takes only seconds to make and less than two minutes to cool. Our attendants will help your guests through the process and make sure everything goes smoothly!

Trending Bar and Bat Mitzvah Party Favors 2017 – 2018
The hottest Bar and Bat Mitzvah party favors 2017 are all about favors that are interactive, add a décor element to the room with some visual excitement, and can be personalized and branded to match your child's personality. Lipology hits all these points with the sleek interactive station and customizable labels. Lipology custom lip balms are great for both boys and girls as well as guests of all ages. It takes up very little space at your event and comes with an attendant to run the machine and watch your guests' lip balms as they quickly cool.